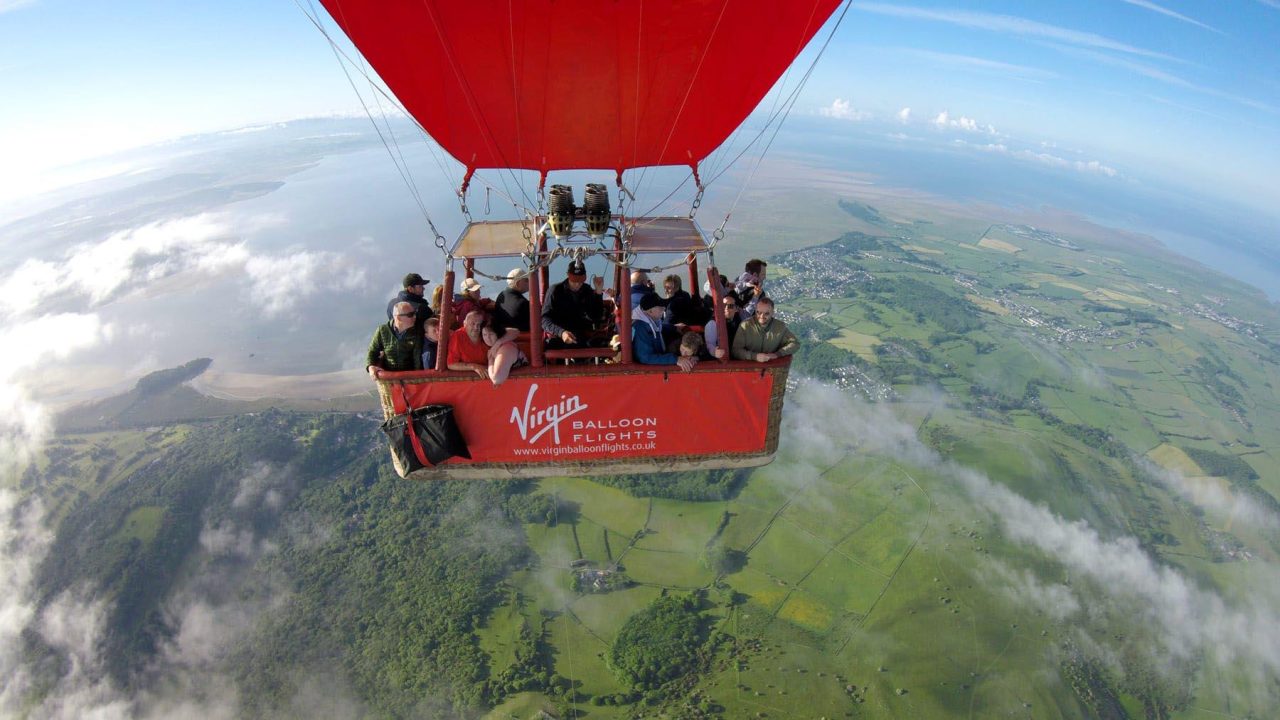 Take Life Higher
The experience of a lifetime awaits as you take life higher with our spectacular hot air balloon rides. Look forward to joining your fellow passengers for an unforgettable 3-4 hour experience, with around an hour in the air and ending with a celebratory Prosecco toast.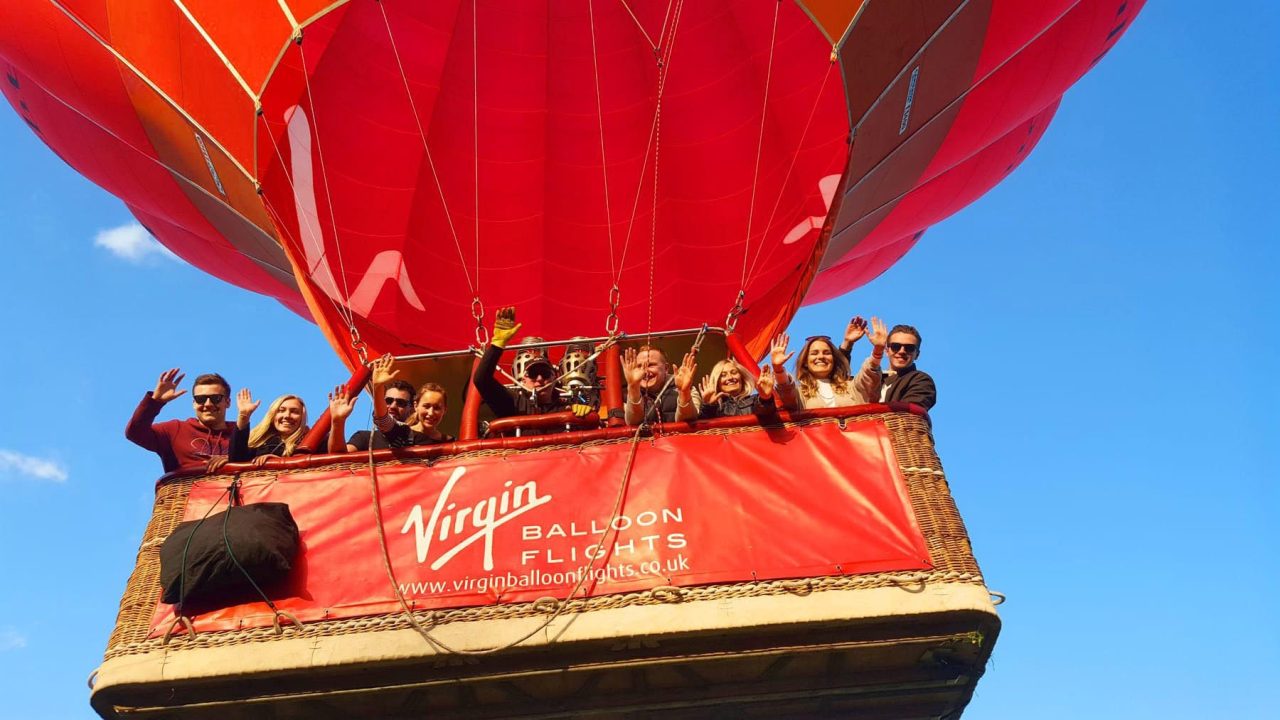 Bye For Now
Wave goodbye as you go up, up and away for an airborne adventure you'll still be talking about for years to come.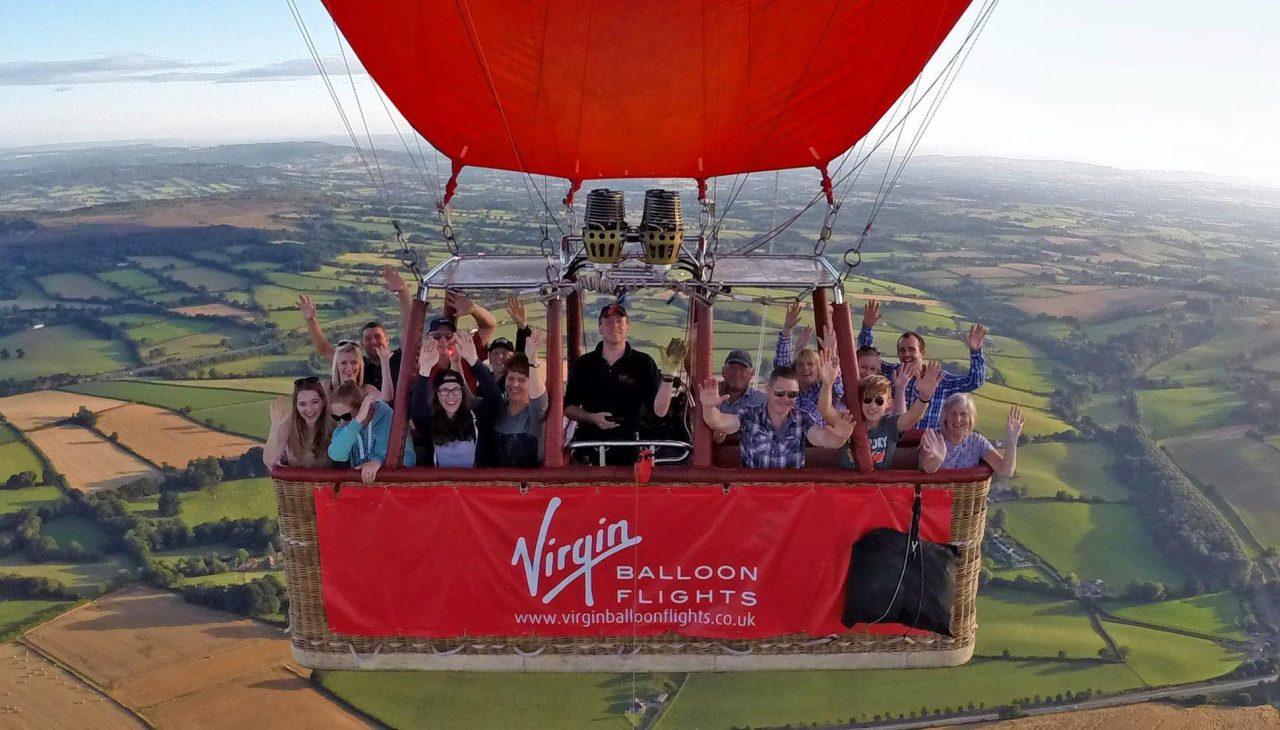 Make New Friends
Join up to 16 excited passengers and share the flying experience of a lifetime as you go up, up and away in our iconic big red balloon. Everyone in the team will be invited to help with the balloon inflation and deflation, but don't worry, it's optional.
Treat Your Dad
For the 'dadventurous', nothing beats the sky high experience of a hot air balloon ride. Treat dad to the experience of a lifetime.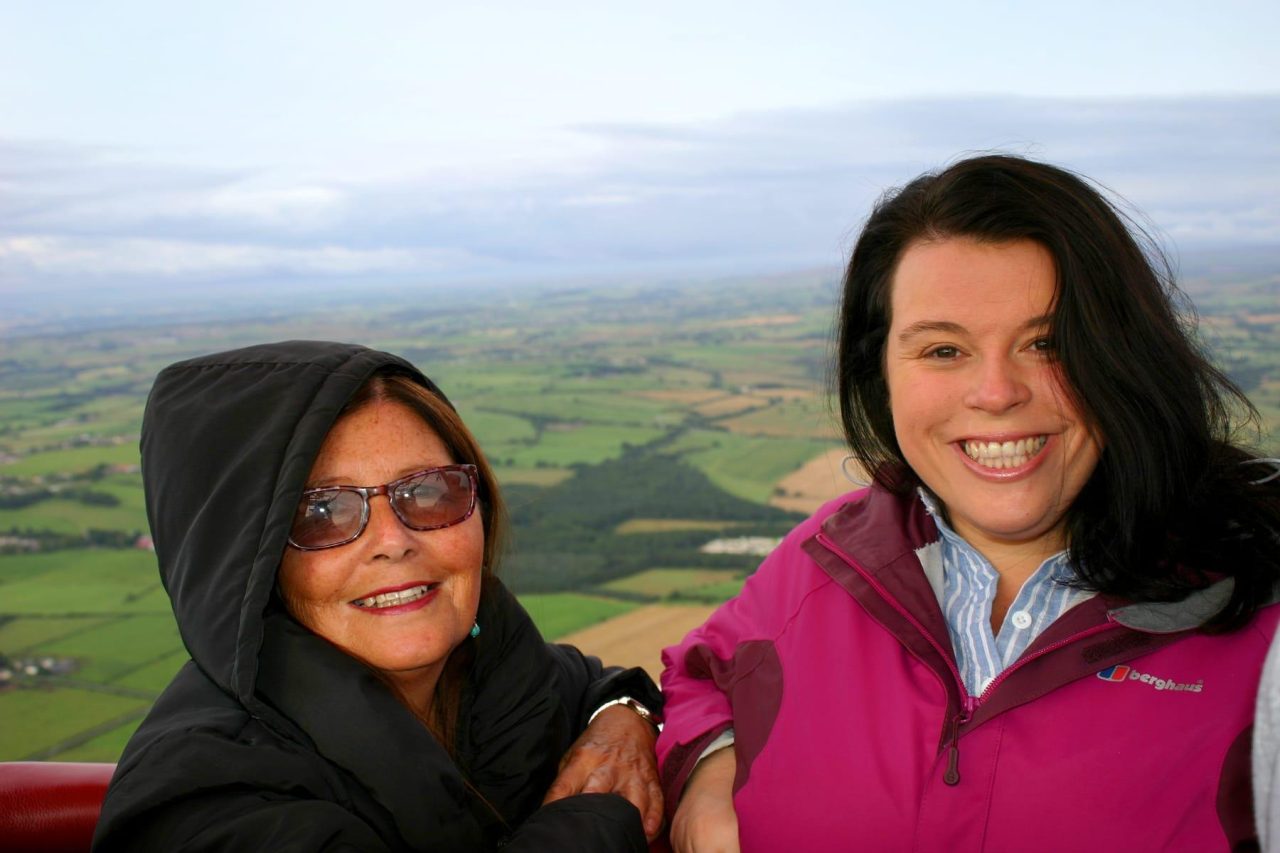 Treat Your Mum
Give mum the gift of flight for a truly 'mom-umental' airborne adventure she will never forget.
Family Fun
From seven-year-olds to 107-year-olds, a family balloon flight is a truly unforgettable airborne adventure. Go up, up and away and take life higher together.
Solo Adventures
Lots of our passengers choose to fly solo and enjoy the experience of a lifetime. And by the time they enjoy their post-landing Prosecco toast, they've made plenty of friends among their fellow passengers.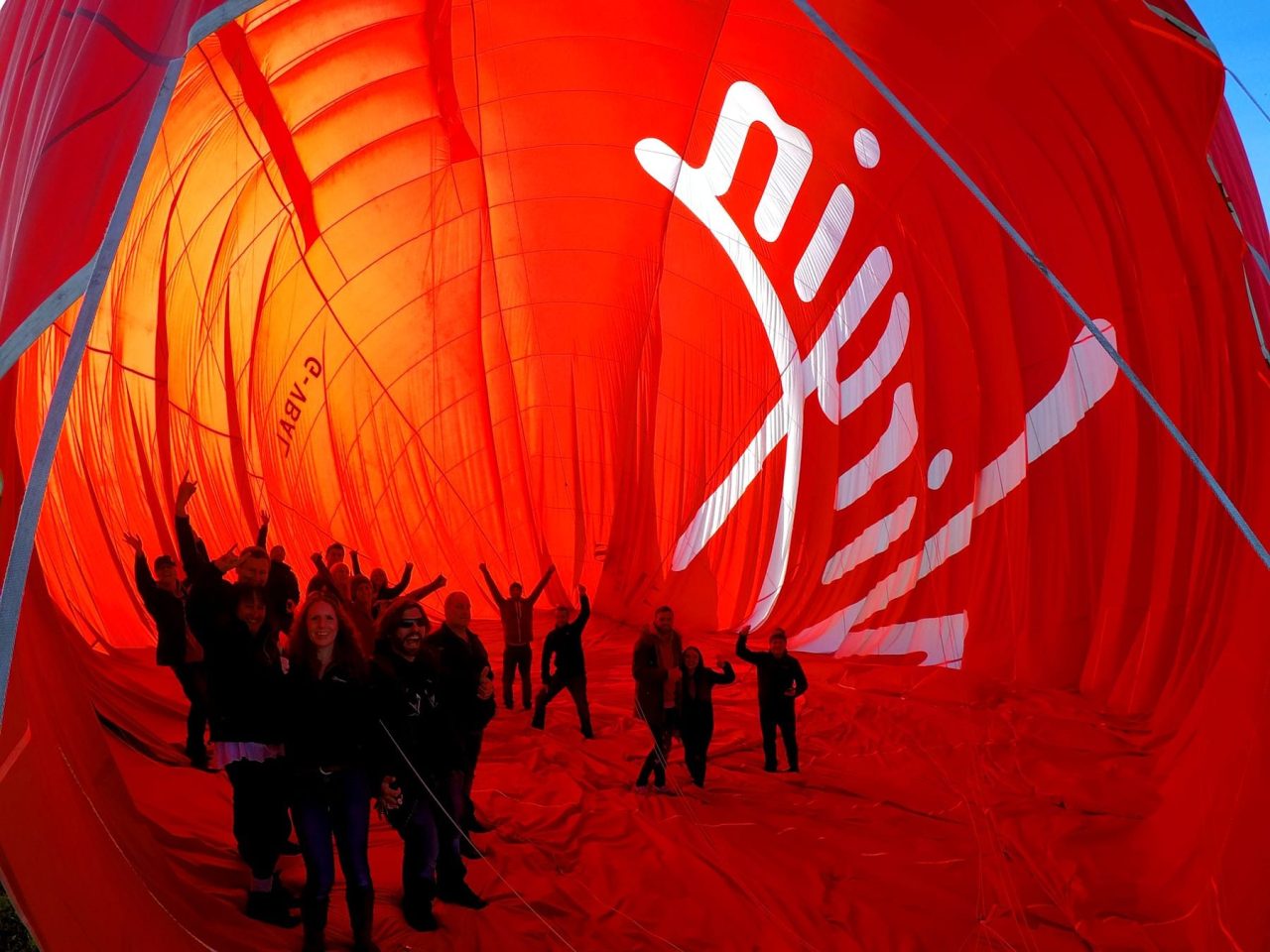 The Big Red One
Our beautiful big red balloons really are enormous, even when half deflated after landing.
Fun With Friends
Friends who fly in a hot air balloon make memories to last a lifetime together. Share the adventure with your favourite people.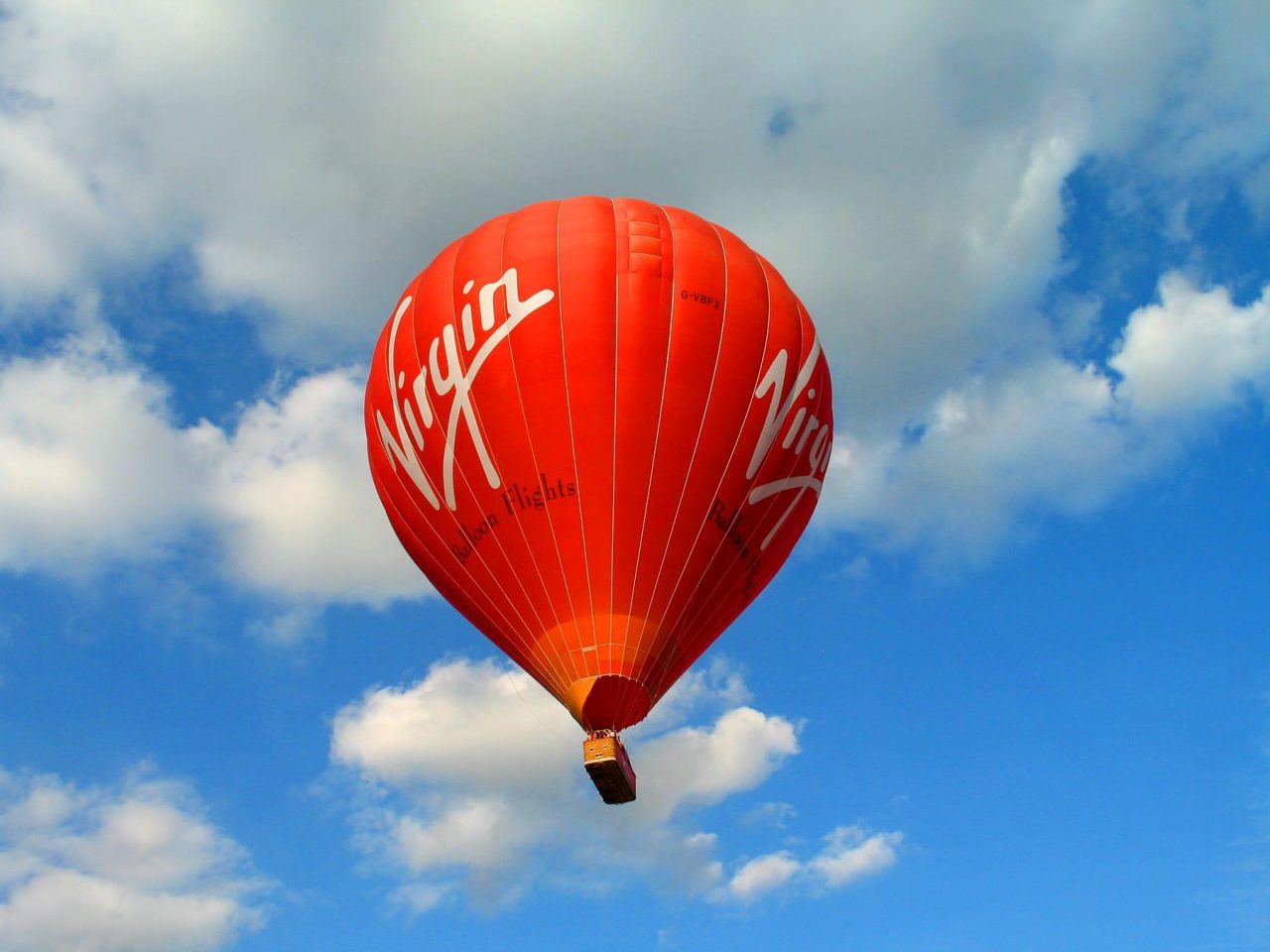 Up, Up And Away
When the air inside the envelope weighs more than 14 tonnes, it really does feel like magic when our iconic big red balloon launches high into the sky.
It's My House
Sometimes, with the right wind, you could be lucky enough to fly over your own house or any other places you know and love.
Smiles In The Sky
Smiling until your cheeks ache is a common side-effect of our wonderful hot air balloon rides. We love it.
Sky-High Selfies
The coolest of backdrop for any selfie, get out your phone and take the most Instagram worthy of pics on your fabulous hot air balloon experience.
Get Involved
Passengers love the chance to add to their airborne adventure when we invite them to help set up and pack away the balloon.
Here I Come!
Some passengers really leap into action to help pack away the balloon. It's completely voluntary but great fun for those who can.
Just Relax
Is anything more relaxing than a hot air balloon ride? Even helping to pack away the balloon is a chilled out experience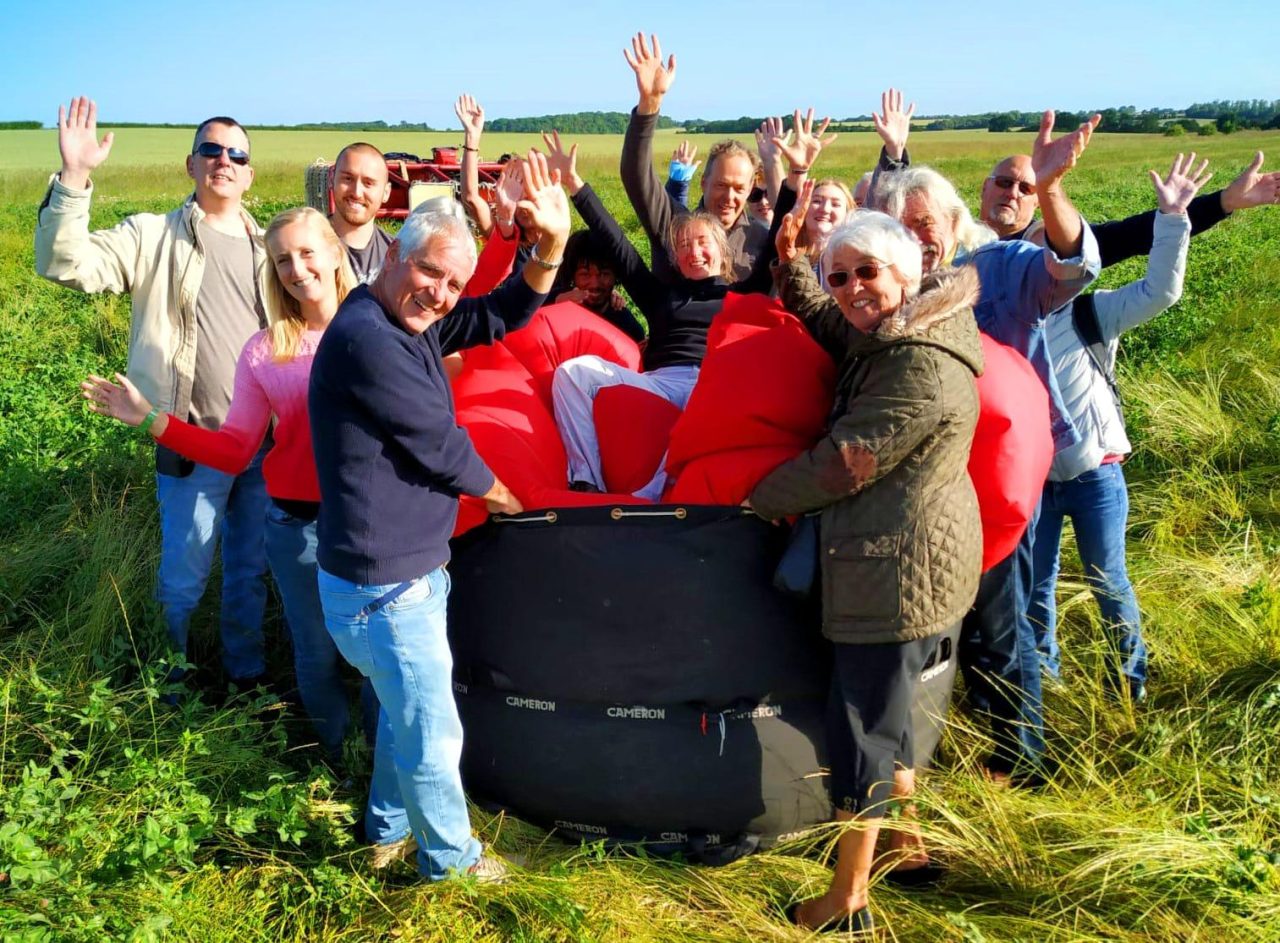 Winning Teamwork
Many hands make light work but when you're also having the best of fun packing up a hot air balloon, teamwork comes naturally even if you only met a couple of hours ago.
Get Silly
Fun is at the heart of everything we do and both our ace pilots and passengers alike enjoy a bit of silliness during deflation and after landing.
On Cloud Nine
It's a whole new world as you soar above the clouds to fly through the skies on a white and fluffy magic carpet ride. Nothing compares to the feeling of pure elation as you fly high enough to find yourself on cloud nine.
Down Low
Find the world at your feet as the glorious countryside passes beneath the basket, the silence broken only by the odd burst from the burners and the sounds of wildlife below.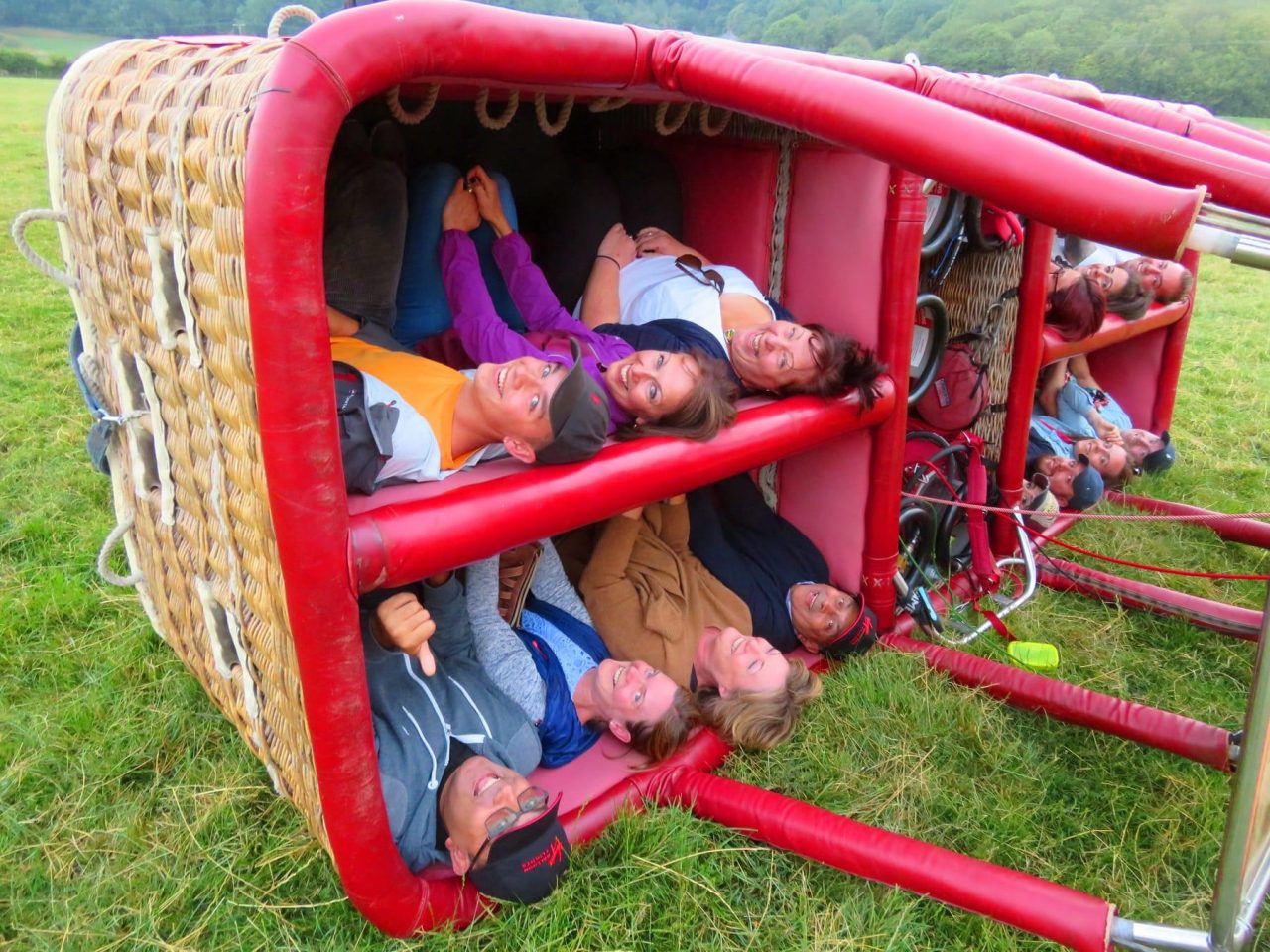 Drag It Out
For a lot of people, the landing is often the most fun! Whether it's the excitement of a drag landing or a gentle upright descent, every hot air balloon landing is an adventure.
Back Down To Earth
Once it's all over and you're back down on solid ground, you'll want to do it all over again.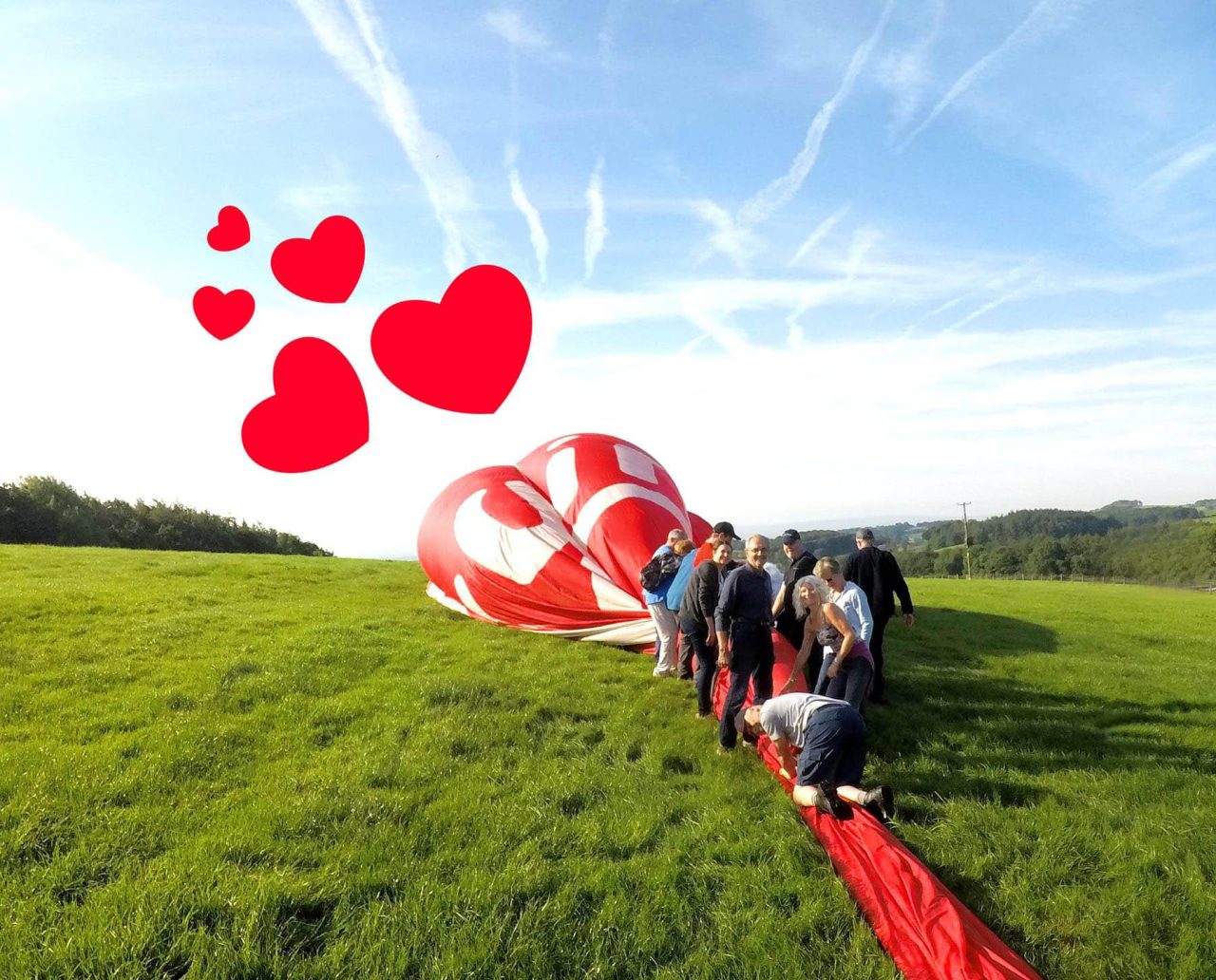 We Love Ballooning
A true love of hot air ballooning is at the very heart of why we have such passion for what we do. We've no doubt you'll fall in love with it too.
It's Getting Hot
The drama, heat and excitement of firing up the burners to inflate our gigantic red balloons is something we never get tired of.
The Safest Hands
With a full and detailed safety briefing from our ace pilots before you fly, you won't find a safer or more experienced pair of hands to take you up, up and away.
Feel The Excitement
When you're still on the ground but just can't contain your excitement at reaching for the skies in our iconic big red balloon.
Hold On
Some passengers do feel a bit anxious before launch but by the time they're in the air, those nerves just melt away into absolute joy.
Look Down
Look down at the stunning landscapes below, as you fly majestically and almost silently across the most beautiful parts of England, Scotland or Wales..
Look Up
Look up into endless blue skies and marvel at the way our iconic big red balloons seem to be suspended in mid-air by magic.
Patchwork
Find the world at your feet as you float majestically over pretty patchwork fields.
Get Snap Happy
Those glorious views are just begging to be captured by your inner photographer. Make sure you camera is at the ready for the 360 panoramas you only get from a hot air balloon ride.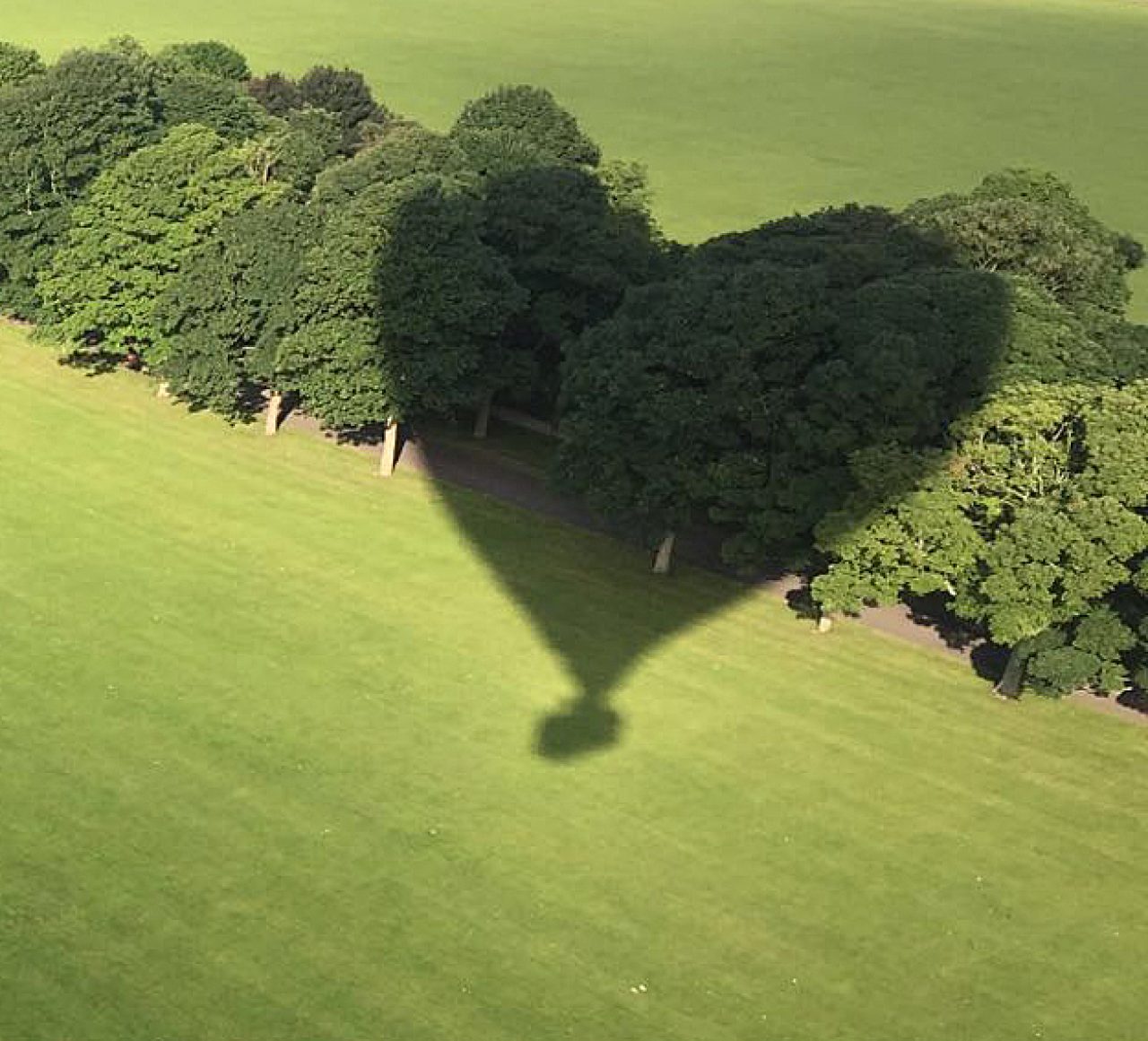 Love Is In The Air
Even the shadows from our big red balloons love flying high with us.
Certified Balloonists
We commemorate every flight with a personalised, signed flight certificate from your pilot, endorsed by Sir Richard Branson.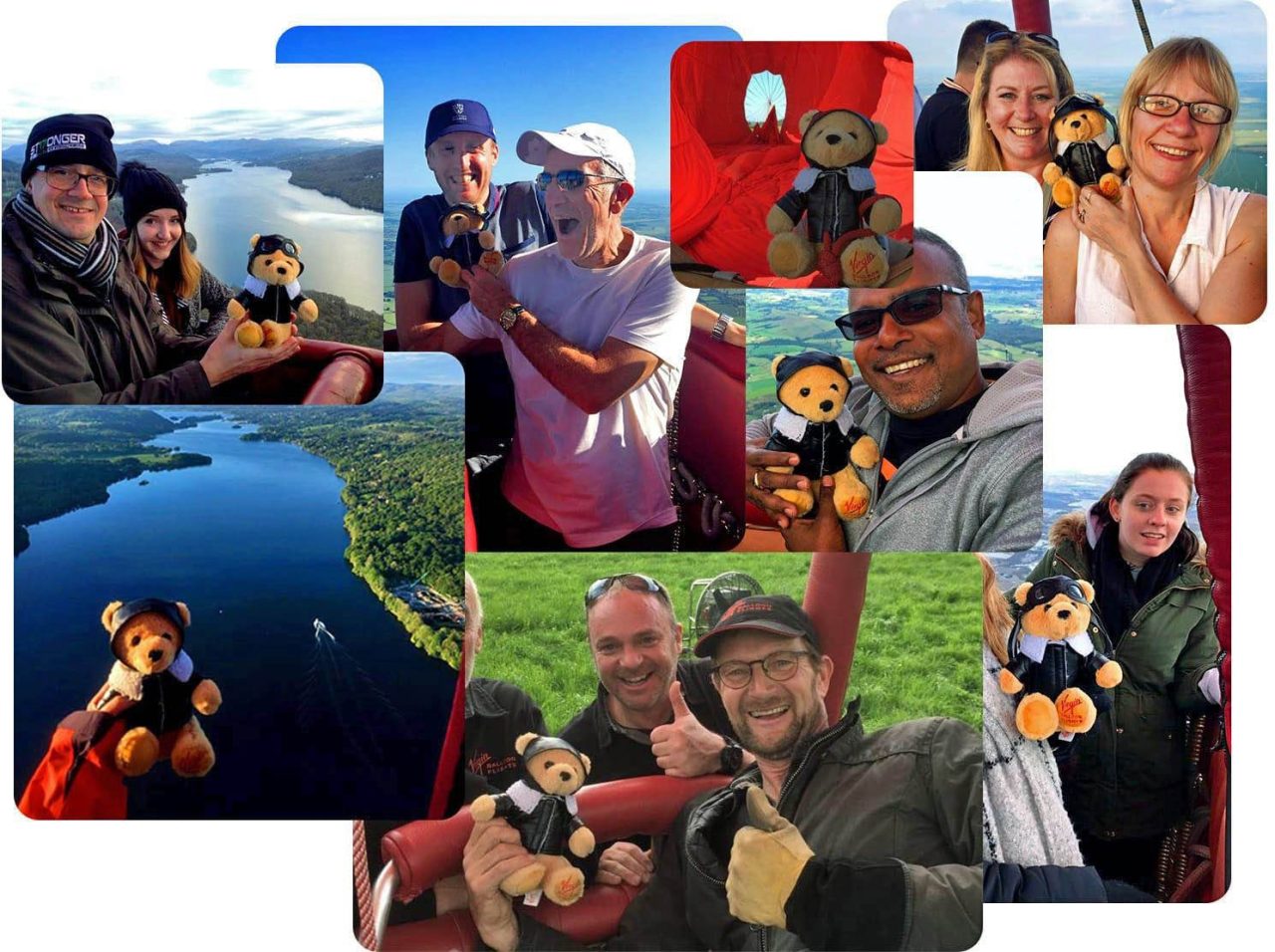 Where Did Hugo?
Our 'frequent flyer' pilot bear loves to take life higher in our big red balloons. Buy your own limited edition Hugo in our gift extras.
We Did It
Want to meet new friends while sharing an unforgettable airborne adventure? We've got that in the bag.
Cheers!
As your magnificent hot air balloon experience comes to an end, enjoy a celebratory Prosecco toast to perfectly finish off your unforgettable airborne experience.