Picture a hot air balloon ride: you're drifting into the sunset. Arm around the person you love. Quietly sipping champagne as the picturesque scenery slips beneath your feet...
Think again!
Douglas the Lurpak Butter Man
[caption id="" align="alignleft" width="220"]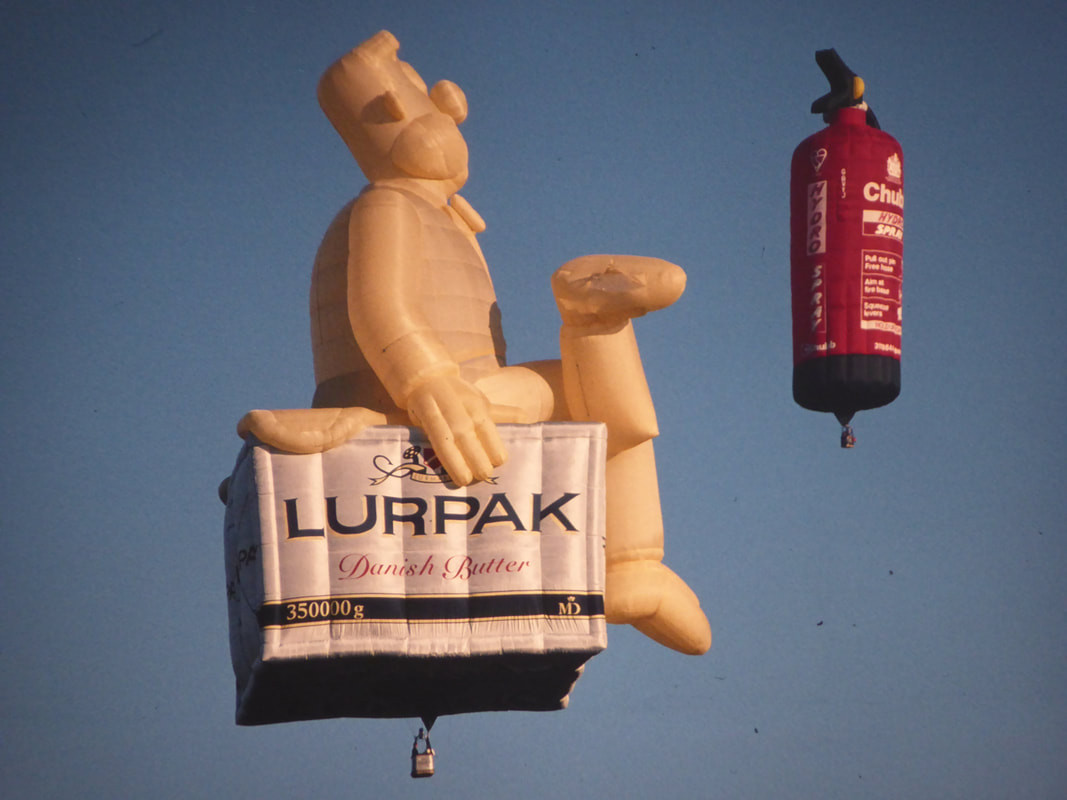 Source: Things News[/caption]
Dating back at least as far as the late 90s, Douglas the Lurpak Butter Man was a balloon like no other - Lighter Than Air. Although, we suppose that part makes him just like every other hot air balloon, exciting design or not. Famous for being involved in British pilot Ian Ashpole's record-breaking attempt at the highest flight attached to 600 toy balloons. Fewer people know that Douglas was once stolen while packed away in a trailer - he was located after a reward of £1000 was offered.
The Mandatory Animal: Flying Cow
[caption id="" align="alignright" width="260"]
Source: Design Buzz[/caption]
No Top 3 Hot Air Balloon list would be complete with an unlikely animal defying gravity and taking to the sky. Beating off turtle, bee, dinosaur and elephant inspired balloons to make this list, "The Cow" takes off at a skiing resort in Chateaux D'Oex in the Swiss Alps during the 25th Annual Hot Air Balloon Week (the elephant was a close second).
Head One: Darth Vadar
[caption id="" align="alignleft" width="150"]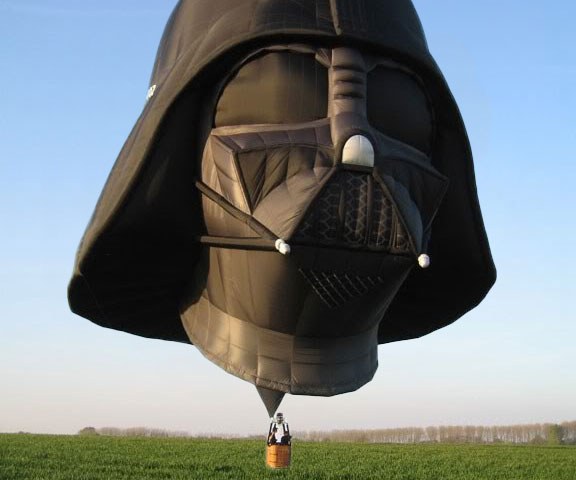 Source: Things News[/caption]
The top-secret operation code named "Head One" saw an English manufacturer take 8 weeks to bring Darth Vadar himself to life as a hot air balloon. Commissioned by a Belgian Star Wars fan, the construct is 86 feet high, 69 feet wide and weighs approximately 640 pounds. May the force be with it!
Of course, if these balloons are out of your price range, you can always opt for ballooning with Virgin Balloon Flights. Every year from March to November hundreds of balloons take to the sky offering anyone the chance to have their breath taken away.
(Virgin Balloon Flights don't yet offer the experience in flying cow form, but we're pretty sure that's not a negative.)